CATHOLIC CHARITIES
OF HERKIMER COUNTY
Catholic Charities of Herkimer County is one of the largest, private, social service agencies in the region, helping more than 16,000 people each year in Herkimer County. Our motive is simple: to address basic human need at all stages of life regardless of race, religious belief, ethnicity, or lifestyle with special emphasis on the poor and vulnerable in our society. 
Catholic Charities offers a wide spectrum of services, from addressing basic needs such as food, clothing, and shelter; to more specialized needs such as mental health counseling, prison support services, programs for low-income families, and disaster assistance. We focus on helping the most vulnerable in our communities, including people with developmental disabilities, pregnant and parenting teens, immigrants and refugees, the unemployed, victims of domestic violence, and the homeless.  Catholic Charities advocates on behalf of the poor and vulnerable and collaborates with others to build a more just society. 
Catholic Charities of Herkimer County opened its doors in 1980 under the name Catholic Family and Community Services, with two programs: Services for the Elderly, under the direction of Sister Rachel Ricciardelli CSJ, and Community Maternity Services, under the local leadership of Louise Leonard and Sister Stella Valerio. The agency was located in Herkimer, NY for many years. The agency moved to its current address in Ilion in 1995 and in 1997, the agency changed its name to Catholic Charities of Herkimer County. There have been many changes in services offered throughout the past three decades. We currently serve over 16,000 residents of Herkimer County by offering a wide variety of programs with the intention of improving the lives of the poor and vulnerable in the county.
For more information contact our agency at (315) 894-9917
OUR MISSION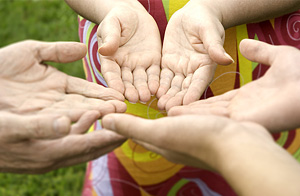 "Our purpose is to maintain the dignity and improve the quality of life of families and individuals in Herkimer County through empowerment of those in need, advocacy for a just society and collaboration with women and men of good will. By our actions and visible presence, we seek to influence others to become more aware of and responsive to human needs."